Hurricane Gilbert was a hurricane that occurred during the 1988 Hurricane season. It is the most destructive storm in history to hit the small island of Jamaica. On September 12th, 1988 the winds reached 175 miles per hour, making Gilbert a category 5 hurricane. Gilbert had a 40-mile wide eye that covered the island. About 80% of homes were seriously damaged and 500,000 people of the 2 million on the island were left homeless. Almost all homes lost electricity and more than 200 people lost their lives. Hurricane Gilbert caused over $700 million dollars (USD) in damage to the island of Jamaica. Growing up, I always heard the name Gilbert floating around, I would always say, "Who's Gilbert", I had no idea I had a relative named Gilbert. It would always be thrown around in conversation usually by my mother, "Dis nuh suh bad as Gilbert.", "Itta rain bad like Suh it rain home inna Gilbert.". I never mustered up the courage to ask my mother what Gilbert was and why she always was talking about Gilbert until about 3 years ago and her response was "Hurricane Gilbert happened when I was growing up". I never questioned my mom on how bad it was, or how it affected her. It wasn't until I had to do this assignment interviewing a survivor of natural disaster that I realized my mother was always talking about Gilbert and it had affected her to a point in which she constantly references it. I decided to interview my mother when given the opportunity to do so. She is the survivor of a natural disaster, one that she so frequently references, as it has traumatized her. My mother was 15 years old when Hurricane Gilbert had hit the island. She lived in the country area of Jamaica, in a house that all her siblings were birthed in and that my grandfather still lives in today. I asked her what it sounded like and how it looked outside and she recalled it vividly, her face blank almost as if she had numbed herself to remembering the storm, She recalled it as,
"Scary, winds were like a person making a really scary noise. The winds roared like a lion. Looking through the window. It was pitch dark, everything was dark. It came in the night and all you could hear was the rain pouring. The house was wet, almost flooded and part of the roof was gone." My mother recalled to me that her family was already close but "During the night of the hurricane, we stayed together, we slept in one bed."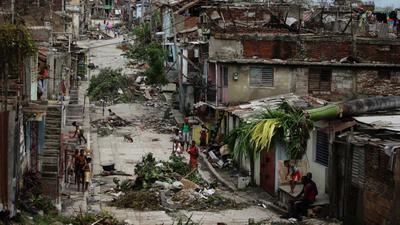 It wasn't rare in my mother's childhood that she had shared the bed with her siblings because there wasn't room for each person to have individual personal space. She spoke about Hurricane Gilbert bringing her family closer, although the storm wreaked havoc, she was still positive and able to see the good of what the storm had done. Similar to Hurricane Maria and Puerto Rico where the storm had brought neighbors closer and allowed the people within the community to be open with others, my mother recalled a similar experience. During the interview, she said, "We were always close with our neighbors, the neighbor's house got damaged totally, they stayed in our house for a while until they could repair their house." During times of trouble, struggle or natural disaster, it is human nature to be able to lend a helping hand and ask for help if needed. It is times like this when you have nothing or seeing others struggle it will open your heart to helping others around you and not forgetting the kind act of others giving when you had nothing allows you to pay it forward to the ones that aren't so fortunate. It was so bad that the prime minister of Jamaica reportedly said that eastern Jamaica looked "like Hiroshima after the atom bomb", the hurricane ruined crops, which is a substantial part of Jamaica's economy, buildings, roads, and small aircraft. It's a government's job to supply and help their people during times of disaster, similar to the inadequacy of the Puerto Rican government after maria, the Jamaican government responded poorly to the aftermath of Hurricane Gilbert. My mother recalled that it took months to get aid, the roads were terribly damaged, there was no public transportation and infrastructure that had been washed away. My mother also recalled that hearing about what happened in Puerto Rico after Hurricane Maria reminded her of how corrupt the government of Jamaica is, she told me that after Gilbert, the government took the resources and aid for themselves and also sold part of it for profit. The coverage of the storm was not as it should've been, my mother recounted that the media covered Hurricane Gilbert terribly, and even doing my own research there were little articles that had to do with Gilbert's effect on Jamaica.
Video on damage in Jamaica
Song inspired by Gilbert