Monica Donaldson, a 51-year old woman living in Luquillo with her husband and children, shared her story with me about what it was like to experience Puerto Rico after Hurricane Maria. Her account showcased an amazing resilience— not only in her ability to help friends and family, but also her outlook towards the events.
"Once the Hurricane is here, it's actually kind of exciting. We get to experience nature at its worst, but also in its awesomeness. Maria was really intense— it didn't rain much, but the winds were really bad. During the storm, my husband had to hold down a door that was blowing away. My daughter's window was buckling in from the pressure. But the sound is incredible, like being next to the engine of an airplane."
Monica had mentioned that the hurricane itself was an opportunity to experience the full capabilities of nature— you get to recognize the power that the Earth holds. The preparation, although intense, was a process that she and her family were familiar with. It was the after-effects of Maria that surprised everyone.
Like many Puerto Ricans, Monica and her family experienced a lack of electricity for months, food shortages, and property loss. She described how her family stayed within their home for five days before they were able to leave. Their home, just outside of El Yunque national rainforest, remained intact. The same could not be said for their other property investments, rentals on AirBnB, that they utilized as a source of income.
The destruction of their property and a source of income was not all that was lost. Her husband could no longer work his job at the Wyndham hotel due to the building's destruction. Her daughter could not complete her education while her school was being used as a shelter, and they needed to make the decision to send her to the States in order to complete high school.
Once they did leave the property, they quickly worked to help save their neighbors, many of whom were elderly, from being trapped within their homes from fallen trees— particularly her son due to his physical ability. A chainsaw became a unique necessity for them.
__________________________________________
The community shared their perishable food items before they could go bad, but after 2 weeks, things began to look grim as the food supply slowly became smaller and smaller. She described how her family missed having fresh vegetables to eat, and to give that up was difficult due to it being such a staple, and everyday part of their lifestyle.
Monica's story of community represents the strength of the community of the Puerto Rican people, in that they utilized their own resilience and ability to stand together in order to survive. It was necessary for them to help each other, as they were not receiving help from other government agencies— even two years later. The Trump administration continues to deny Puerto Ricans their aid via food stamps. Yet, Jennifer Lopez, famed celebrity of Puerto Rican background, offered up $1 million in aid through a NY State Aid program in the immediate recovery efforts.
Monica had even mentioned how some in her neighborhood are still using tarps because they cannot afford to fix their property. She explained how FEMA requires that the individual must own the property, and many who rent or have the property under a family member's name were not able to receive those funds. From our own readings, we have found that many who applied for FEMA assistance were provided with a denied application due to the strict, and often times unfair, qualifications required to receive that funding. Furthermore, many were not able to apply because of the little assistance provided from FEMA agents within the island.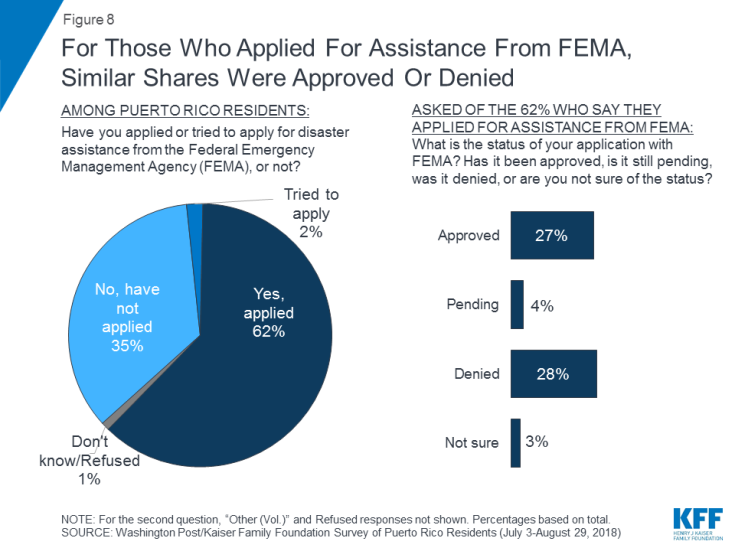 Even while the condition of her surroundings seemed grim, Monica was able to keep a cheery demeanor and even joked about how she had to get creative in the kitchen— "I'm gonna make a cookbook about how to cook during a hurricane. I've been really creative with how to make meals… a lot of beans. I thought I did good," she laughed.
She possessed a positive outlook for every hardship they faced. Even the loss of electricity became a way in which her family became closer. She felt that this was vital in their ability to adapt and remain resilient, as they were able to be open about their experiences.
Even the loss of electricity became a way in which her family became closer. She felt that this was vital in their ability to adapt and remain resilient, as they were able to be open about their experiences.
"The lack of electricity ended up being such a blessing because we were together. We weren't interrupted by our phones or TV. When the electricity did come back, it was kind of like, 'I'm going to miss those times of connecting and talking.'"
Monica even described how her son seemed to be empowered by the whole experience. He was able to serve his community, and recognized his own ability to survive.
When I asked her about what her life is like now, 2 years later, compared to the initial impact back in 2017, she responded by emphasizing the way in which it is both necessary, and natural, to adapt to the situation as a whole. Her positive outlook was not an easy thing to maintain— she found it hard to assimilate back into her community, as many individuals were still distraught. She understood their pain, but could not be like that herself. Her positivity was her own way of adapting, and creating an environment for her and her children that allowed them to grow rather than fall apart.
"I have children. You have to keep it together. You have to make this a learning experience. You have to make this positive. You have children looking up to you who need guidance. How do I want my children to be affected? I can change their outlook in an instant. Yeah this sucks, but are we going to wallow? Let's make this fun. They're going to remember this from the rest of their lives, but now in a positive way."
Monica's resilience is a powerful message for us all. She and her family were able to see the good that the hurricane created in their lives. While she recognizes that it was in fact a terrible situation for people to be in, she also recognizes that she had a greater power to make the best of it all. Her story, experience, and outlook, are all vital when we consider the way that we choose to represent victims. While it is important to recognize the bad that they experience, to look at a group of people only as victims rather than survivors as well, undermines and limits their resilience.